The Perfect Jewelry for Every Enneagram Type
The famed Enneagram Personality Test is used by corporations, dating sites, and curious people all over the internet. If you know your type, we have some great jewelry picks for you.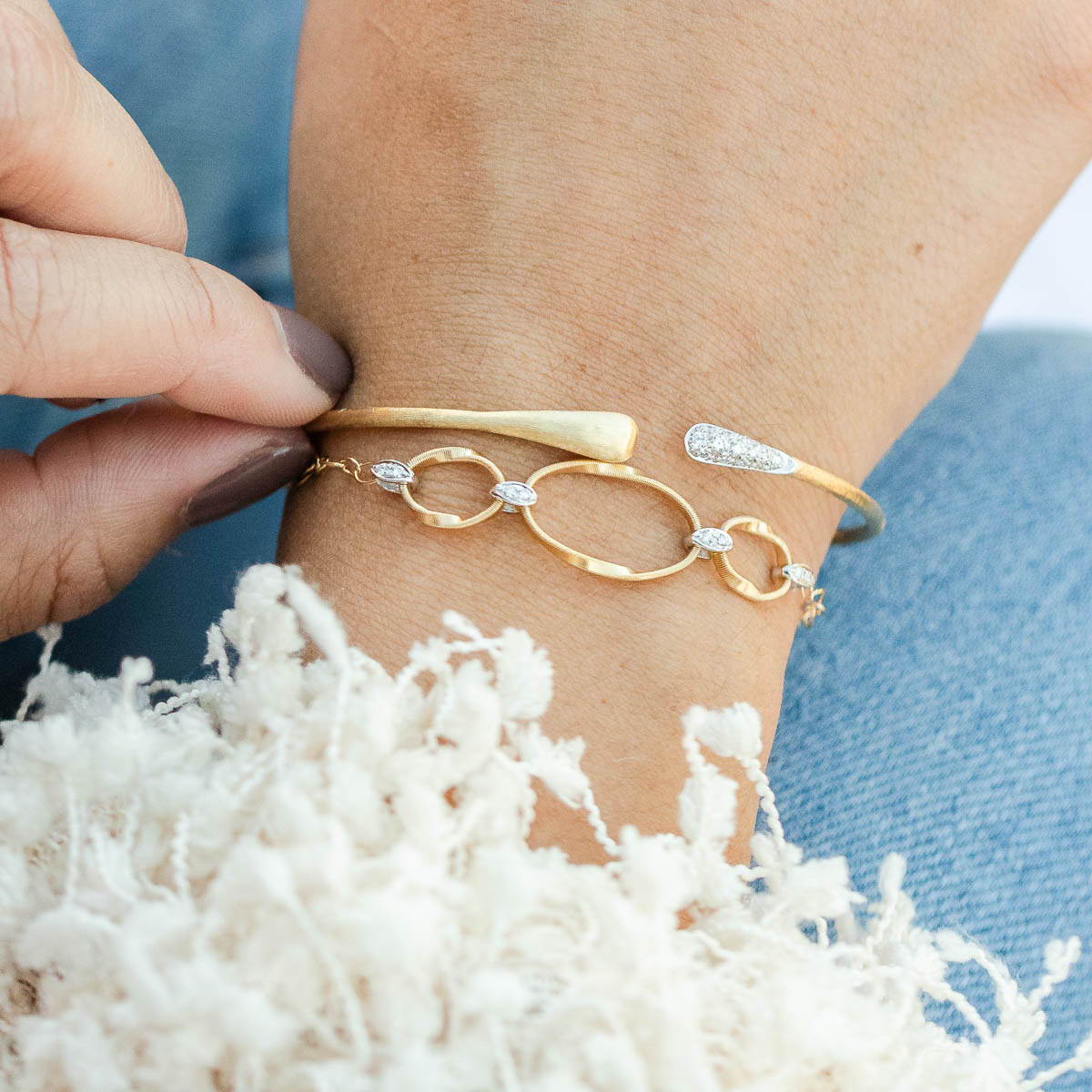 Type 1: The Reformer
If you're The Reformer, you're known for your sense of mission. You want to get through adversities and strive for higher values. You share an Enneagram Type with Gandhi and Joan of Arc…so, pretty good company! Your high standards require things to be in order and that equates to clean-cut lines in jewelry. It's about luxury…without being flashy.
This Suna Constellation 5-Stone Necklace is a great choice for Type Ones. It holds 5 diamonds and can stand alone or be an eye-catching accent in layers.
These earrings from Roberto Coin seem to be crafted specifically for Type One. As the only brand to own the name "Perfect Diamond Hoop," The Reformer will love the symmetry as the diamonds run along both the outside and inside of these earrings.
Type 2: The Helper
As The Helper you are warm-hearted, selfless, and tend to have unconditional love for others. Well-known Type-Twos include Eleanor Roosevelt, Stevie Wonder, and Dolly Parton. You're likely attracted to ethically and sustainably sourced gemstones. For you, jewelry should be just as responsible as it is beautiful.
Because of that, we think you'll love this David Yurman Cable Classic Heart Pendant from our estate collection. Type Twos are attracted to our estate collection because it gives jewelry a second life. The pendant is 18k yellow gold on a box chain and is in our modern collection at Short Pump Town Center.
Another piece that Type Twos love is this pair of Fulfillment Stud Earrings from Hearts on Fire. It's a dramatic center diamond surrounded by 9 smaller diamonds set in 18k white gold. As with all Hearts on Fire creations, this one will radiate as bright as your selfless heart.
Type 3 – The Achiever
The name says it all. As a Type Three you are success oriented. You want to distinguish yourself from others, and you're driven by success. You're in company with Emperor Constantine, Taylor Swift, and Anne Hathaway. You like to look your best and appreciate stand-out pieces of jewelry made to turn heads.
An 18k White Gold Flexible Bracelet from Pieoro Milano will give a Type Three guaranteed eye-catching attention. It's unmistakable in its uniqueness. You can immediately tell it's both delicate and demanding.
If that doesn't do the trick, then a DARDASHTI Platinum Emerald-Cut Diamond and Sapphire ring is sure to satisfy a Type Three. This halo design has a jaw-dropping diamond surrounded by blue sapphire in an oblong-octagon shape.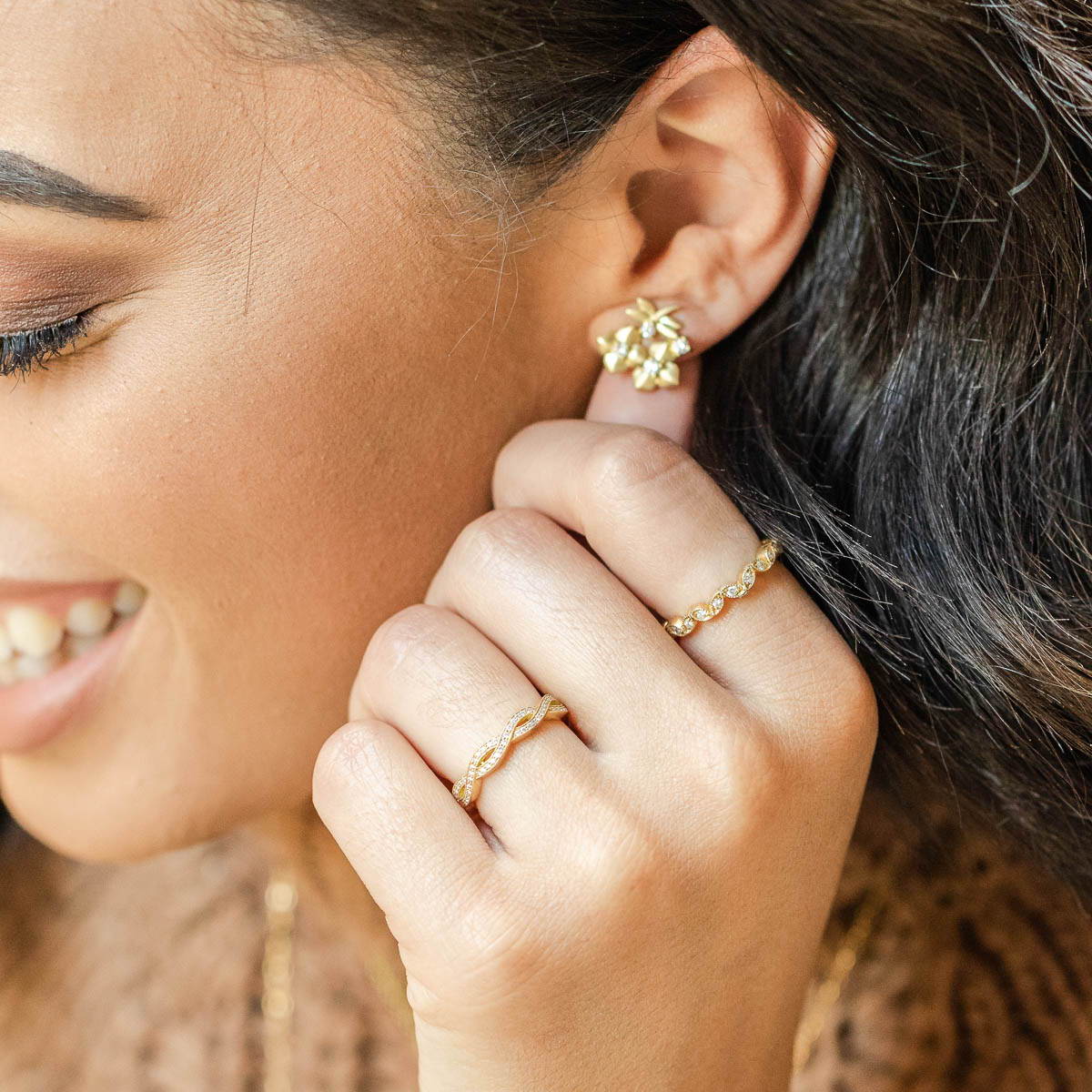 Type Four – The Individualist
Could there possibly be something that's "just right" for an Individualist? If your Enneagram is Type Four, it's likely you're a sensitive and withdrawn type. Perhaps dramatic and temperamental… but perhaps it's more creative and emotional. You see yourself in people like Jackie Kennedy Onassis, Miles Davis, and Angelina Jolie.
For you, The Idaho Opal Gem Company has a 14k Yellow-Gold Australian White Opal Ring. The design sweeps around your finger with romance and femininity. The star of the piece is a captivating white opal that echoes time gone-by.
Type Five – The Investigator
The Investigator, Type Five on the Enneagram list, is intense and cerebral. Stephen Hawking, Susan Sontag, and Annie Liebovitz lean toward this type. As a Five, you want to know and understand. You're an analytical and gravitate toward minimalist and practical jewelry.
For example, 18k Gold Small Hoop Earrings from Roberto Coin will speak to a Type Five. It can be worn with a variety of outfits, while not being overly bold.
For something with a bit of a (literal) twist, Roberto Coin also created 18k Gold Twist Oval Hoop Earrings in the Perfect Gold Hoops collection. They're unmistakable in their precision and symmetry.
Type Six – The Loyalist
As a Loyalist, you're trustworthy and reliable. People know you're committed, but you might also come with a bit of anxiety and defiance. You like your security and want to feel supported by others. Bono, Jennifer Aniston, and Larry David are examples of Type Sixes. These folks would be drawn to calming colors and pieces that might reduce stress.
Found in our estate collection at Cary Court, this Roberto Coin Primavera Diamond Station Bracelet symbolizes security as 18k white gold is braided all around, clasped together by diamonds.
Type Seven – The Enthusiast
When you're a Type Seven, you are extraverted, fun-loving, and spontaneous. You want to be a part of all the new and fun things going on around you, and you tend to like bold fashions. In jewelry that means big stones, versatile pieces, and flashy colors. Other Sevens include Jim Carrey, Bette Midler and Katy Perry.
Jewelry from Italian designer Marco Bicego is ideal for The Enthusiast. You won't be missed when you're wearing this 18k Yellow Gold Flat Link Long Necklace.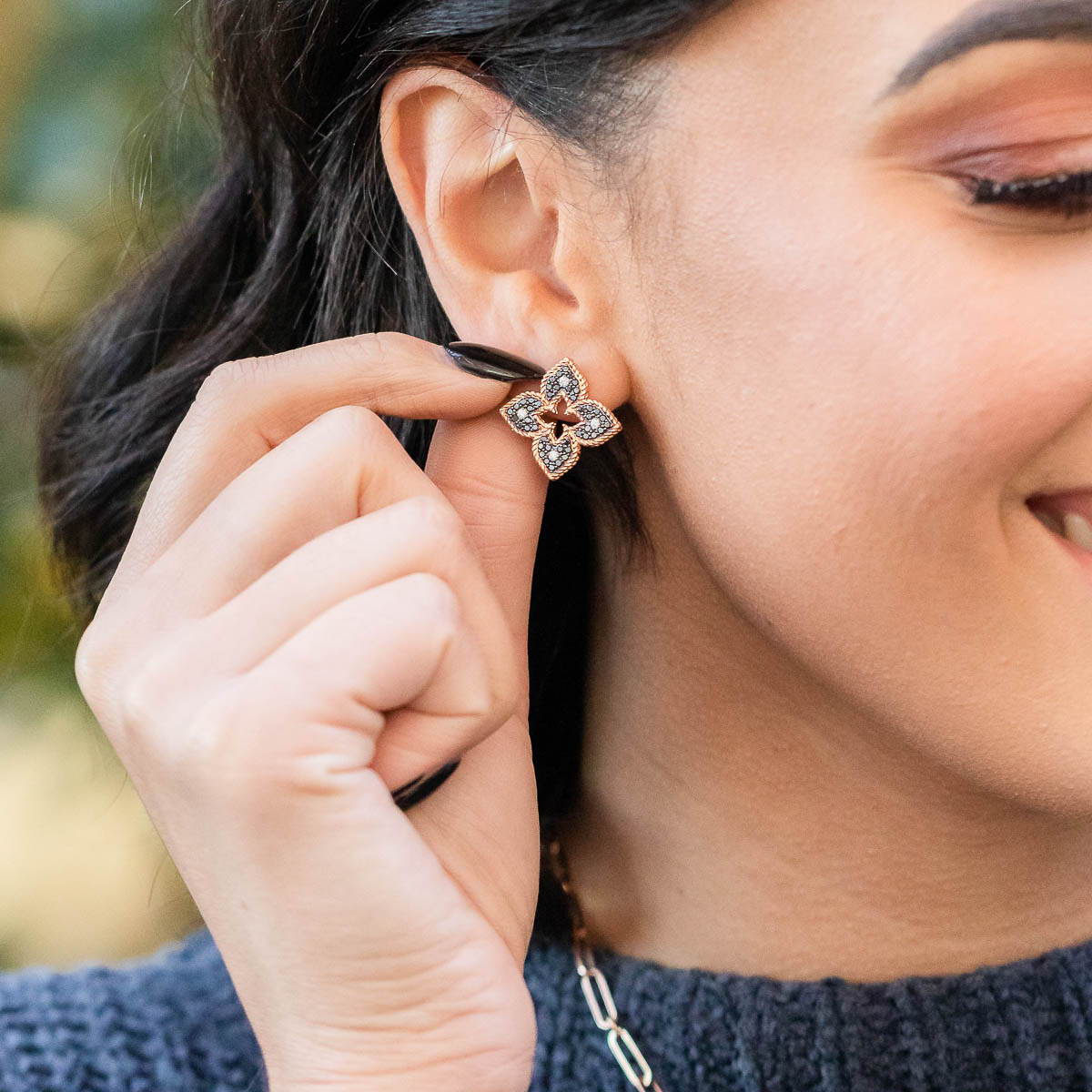 Type Eight – The Challenger
Eights like you have high self-confidence, tell it like it is, and you're not afraid to challenge norms. You take pride in your self-reliance and gravitate to bold and unique pieces. You share traits with Hemingway, Aretha Franklin, and Pink.
Your affinity for statement pieces will draw you to this Emerald Cut Pink Sapphire and Diamond Ring. This comes from the Lady Diana collection. Her "untraditional" purple sapphire engagement ring was later given to Kate Middleton by Prince William.
Type Nine – The Peacemaker
If you're a Nine, you tend to be the stable one in your circle. You go with the flow, support others, and are usually optimistic. Your personality is similar to Jim Henson, Lisa Kudrow, or Queen Elizabeth II. Because of that, you choose pieces that are nature-inspired and simplistic.
A good example is this Roberto Coin 18k Gold Butterfly Pendant with Diamonds. Its hopeful design is a nod to springtime and new beginnings.
Your love of nature will draw you to this Diamond Bracelet from Lagos. A delicate bangle with Sterling Silver and 18K Yellow Gold.
Your own Enneagram Type can give you both insight into how you handle the world, and how you interact with other Types. A Google search will point you to dozens of online Enneagram Personality Tests ranging from very basic to deep analysis. Regardless of your personality or any test results, we're confident we can find the perfect piece for you!