Men's Jewelry: On the Rise
If it seems like more men are wearing rings, bracelets, and necklaces…it's because that's exactly what's happening. In a day when more clothes are bought off the rack, and cars look like they were stamped in the same factory, men are looking for new ways to say "this is who I am, and this is what I like."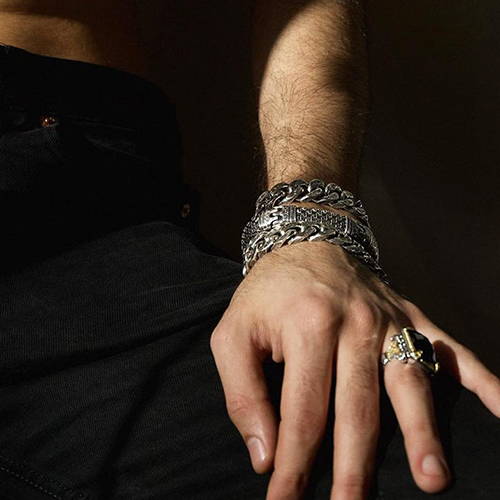 At its most basic, the reason men and women wear jewelry is the same. It says something about who they are. It often has a story connected. And it's a way to stand out from the others. But for men, there's often a "counter-culture" or "rebellious" attitude that drives their jewelry choices. Think of groups like the Hell's Angels, known for black leather biker jackets, oversized skull rings, pendants, and heavy chains. The message is clear: "I am part of this group. I stand for these ideals. DON'T mess with me." If you think jewelry is "girly," you probably shouldn't share that opinion with these guys.
The Great Frog, a London jewelry supplier, is the company responsible for the jewelry fashions of Lemmy from Motörhead, Johnny Depp, and members of The Rolling Stones. It's a look that transcends generations and genuinely works for men of all ages. Reino Lehtonen-Riley, whose father started The Great Frog, says that men from all walks are gravitating to jewelry because it's "all about peacocking, standing out from the crowd, and adorning yourself."
While Johnny Depp, Keith Richards, and the Hell's Angels are from Gen X and Baby Boomer generations, the big surge in jewelry sales for men is coming from…you guessed it…Millennials. Two big factors that are helping that rise are…you guessed it again…Instagram and Snapchat. In other words, "peacocking" as Leihtonen-Riley mentioned above.
Evan Yurman recently introduced a special collection of rings, or "bands" as he calls them, that are ridged, fluted, faceted, and cabled in the signature David Yurman style. These bands are made from forged carbon, meteorite, titanium, and black diamonds and they make an unmistakable statement.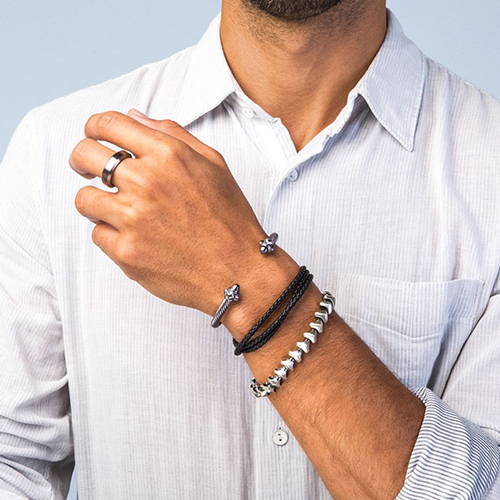 Men are also starting to treat their jewelry much in the way women always have. They have certain items they'll wear at work and completely new looks when they go out at night. In addition to rings and bold wristbands, necklaces are quickly becoming the must-have item for men.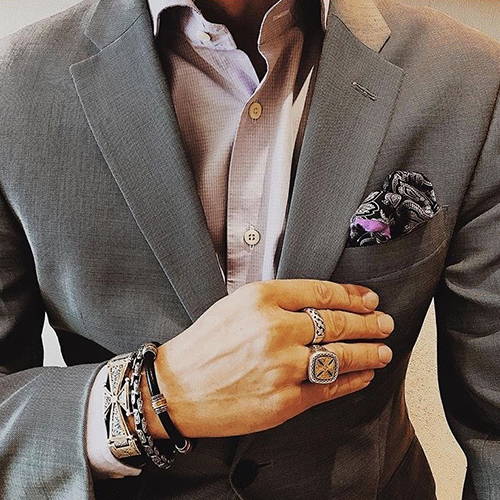 Men are also wearing jewelry for the story of the piece itself, and the story it tells about them. Precisely the same reason everyone wears jewelry. As with many areas of fashion, lines are getting blurred and you no longer have to feel like you can't wear something that appeals to who you are and what you want to say about yourself. From bold chains to even bolder stacked bracelets and rings, your choices are only limited by your personal taste…and possibly your day job.