New In-Store: Frederique Constant
When you begin to think of Swiss watchmaking your mind wanders back hundreds of years to stalwarts of luxury watch manufacturing. But, what if we told you that one of the leading Swiss watchmakers of today was founded less than thirty years ago? With an immense pride in the production of finely-crafted pieces with consistently solid design, Frederique Constant has become a leading name in Swiss timepieces since being founded in 1988.
Established in Plan-les-Ouates, Geneva by Dutch entrepreneur Peter Constant Stas and his wife Aletta Francoise Frederique Stas-Bax, the company derived its moniker from the names of the founder's great grandparents. Neither Frederique Schreiner nor Constant Stas lived to see the founding of the company named in their honor, although the latter founded a company in 1904 that manufactured watch dials. How then, did a watchmaking company in existence for less than three decades become one of the largest Swiss timepiece manufacturers by 2017?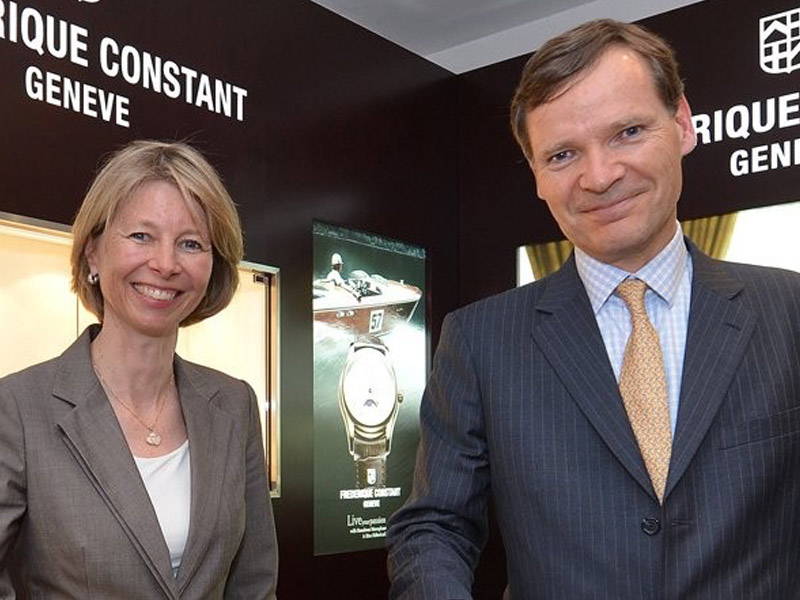 Frederique Constant prides itself on a quality to price ratio that makes its timepieces a superb value for the money. While they are considered a luxury brand, extravagant prices are not required for Frederique Constant pieces. This has led to critical acclaim from the horological community, with the company's "Heart Beat Manufacture" awarded "Watch of the Year" in Horologes Magazine's 2005 awards for pieces up to €3000.
The company released the initial "Heart Beat" in 1994. Designed to show the complex mechanical movement with a skeleton automatic rotor, the "Heart Beat" part of the name comes from the open window on the dial which provides a view of the oscillating balance wheel, a direct view into the heartbeat of the timepiece. Also visible are a few of the more unique elements of the FC-945 movement, such as the silicon escapement wheel, level, and double roller.
While the brand does have some watches which are not produced in-house, they are extremely involved in all stages of production, from initial design to final assembly. Frederique Constant demands such quality in their pieces that they spent three years designing and replacing the outsourced movement of the "Heart Beat" with an in-house movement.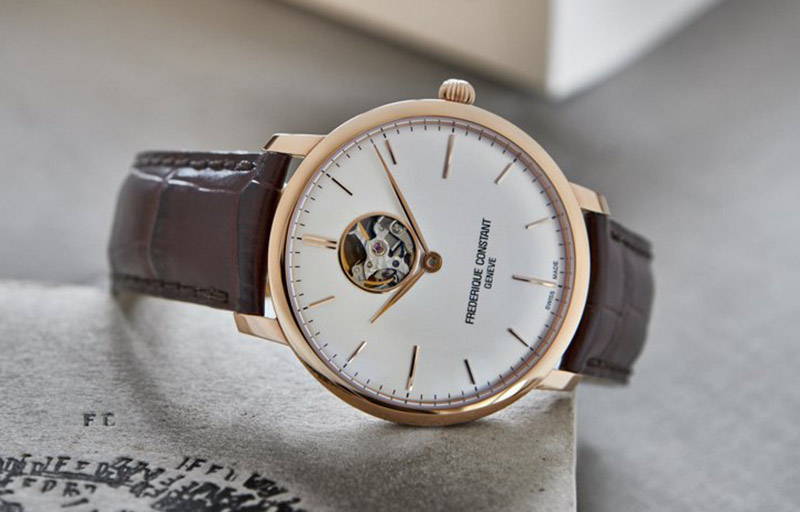 The Heart Beat Manufacture was followed in 2005 by Moonphase and Date editions, with an automatic version released to great success in 2006. With the release of the "Heart Beat Tourbillon Manufacture" in 2008, Frederique Constant emerged as one of Switzerland's leading luxury watch brands. A tourbillon movement utilizing a groundbreaking silicon escapement wheel (only three years after the same was released by Patek Philippe) affirmed the brand's commitment to consistently well designed and finely-crafted timepieces. The use of silicon in the movement has several benefits. Silicon is lighter, harder, and stronger than metal, and with virtually no friction, there is no need for lubrication. This means movements utilizing silicon can run at higher accuracy, are immune to most external forces, and need less maintenance than their metal counterparts.
However, mechanical and automatic timepieces are not the only contributions from Frederique Constant. In 2015, the Horological Smartwatch made its debut for the Swiss watchmaker. Styled as a classic wristwatch and foregoing a digital display, the smartwatch features motion and sleep tracking functions and displays them via a secondary analog dial. The lack of display screen provides significant power savings while still maintaining smart watch features. Rather than a daily or weekly recharge, the Horological Smartwatch has a battery life of two years. Additional features are viewable via Bluetooth pairing with your smartphone.
Frederique Constant has a range of timepieces, including the aforementioned Heart Beat Collection, and the Horological Smartwatch. The Classics, Runabout, Slimline, Vintage Rally, and Manufacture collections round out the offerings from the Swiss brand. Frederique Constant timepieces are available at our Cary Court and Charlottesville locations.